Subtle revisions in design, when added together and taken as a whole, can often result in big changes in performance. Roger Federer's new racquet, the Wilson KSix-One Tour 90 is a case in point.
While at first glance it may look like the changes from nCode to KFactor may have happened in the material build up, a close inspection of the KSix-One Tour 90 reveals some other subtle design updates to the racquet, as well.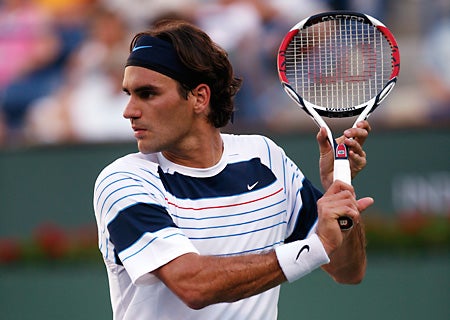 The new KSix-One Tour 90 takes a page from the Wilson ProStaff Original 6.0 85, the racquet that wrote the book on classic racquet performance. Take a close look at the new handle of the KSix-One Tour 90 and you'll notice a shorter pallet with more of the graphite shaft exposed below the yoke – just as with the ProStaff Original 6.0 racquets.
Although we're not aware of any physical advantages to the ProStaff 6.0 85 like handle pallet, we do know it will silence critics that noticed this difference between the version of the Tour 90s used by Roger Federer and those available to the rest of us.
Another subtle update to the KSix-One Tour 90 is the string spacing in the sweetspot of the racquet. Members of our Talk Tennis message boards were quick to point out that Federer's version of previous Tour 90s had only four cross strings along the PWS bar at 3 & 9 o'clock on the racquet face. The retail versions of the Pro Staff Six-One Tour 90 and the nCode nSix-One Tour 90 both had five cross stings through this area. With the new KSix-One Tour 90 we now get four cross strings, just like Federer.
Posted under Uncategorized
This post was written by amflores on November 27, 2009